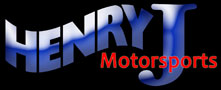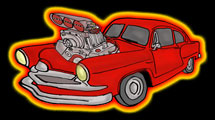 Copyright 2014 The Sandman Motorsports. All graphics, design, and illustrations within this website are produced by
Status Mark Creative
and may not be reproduced in part or in whole without the expressed written permission of Status Mark or Sandman Motorsports. All rights reserved.


Henry J Motorsports
Carl (The Sandman) Bilski 4274 Marks Road
Medina, OH 44256
(216) 780-1309
Call or email anytime!
Email The Sandman
*NEW* Rat Rods
*NEW* 5 Engine Tractor
Honoring All Veterans
The Motivator
Latest News
Links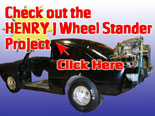 Call (216) 780-1309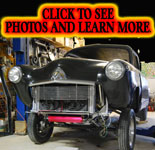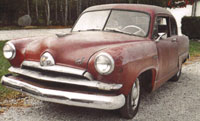 Carl Bilski fondly remembers the six Henry J automobiles his father owned when Carl was a kid. The Henry J was an American automobile built by Kaiser-Frazer Corporation and was the brainchild of Henry J. Kaiser. If you recall, mainstream cars in the early 1950s were large, massive vehicles. The Henry J, although, was a full eighteen inches shorter than typical Chevrolets of that era and at $1,299.00 were priced at $200.00 less.
The Henry J, introduced in the six cylinder model in July 1950 and the four cylinder model later that fall, was designed to seat five adults and go fifty miles per hour for sustained periods while remaining affordable for the average American consumer. Even with its smaller size, the Henry J could store plenty of luggage, and with the optional 161 cubic inch L-head 6 cylinder engine could accelerate from 0-60 mph in just fourteen seconds. The Henry J was endorsed in the 1950s by George Burns and Gracie Allen, Desi Arnaz and Lucille Ball, and Art Linkletter, and today is enjoying renewed interest among vintage automobile fans throughout the world.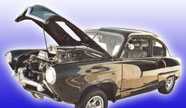 New Henry J -click to enlarge.
Now at the age of sixty-eight and reliving his youth all over again, Carl and
The Sandman Motorsports
have partnered with
ScottRods, LLC
in marketing and promoting sales of all new fiberglass bodied 1952 Henry J's. With Henry J Gassers or Stock, Carl builds the chassis, frame, 9 inch Ford rear, and front end options as in x-cross spring straight axle, double spring (Gasser) or coil-over/air ride front suspension, which is then matched with a fiberglass body that is hand-laid in custom made molds for the finest, most accurate reproduction on the market today. The doors are steel tube reinforced with electric windows and all new glass.
Once the frame and fiberglass body are combined into a rolling chassis, Carl will either finish building the car to customer specifications or have the chassis shipped to the buyer who can build it themselves. These can be purchased to be built as a street legal, race, or show car. The return of the classic Henry J body style enables a buyer to build a unique daily drive with today's F.I. economy afforded drive lines or an old school (Gasser) or a pro-street, high performance weekend fun car for local car shows. The possibilities are endless, and your imagination is your only restriction.
In our car application, we're building a pro-street Henry J with the Gasser look in the front with twin leaf springs and high front end. We are going to power it with an all brand new 540 cubic inch supercharged big block Chevy with Arias Hemi heads on it. This is a brand new motor built by Arias, and it is available in a single four barrel application all the way up to super charged sold by
The Sandman Motorsports
at
(216) 780-1309.

~Manufacturing the all new fiberglass bodied 1952 Henry J's!~