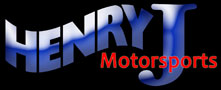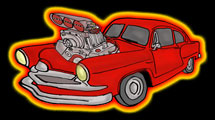 Copyright 2014 The Sandman Motorsports
All graphics, design, and illustrations within this website are produced by
Status Mark Creative
and may not be reproduced in part or in whole without the expressed written permission of Status Mark or Sandman Motorsports. All rights reserved.


Henry J Motorsports
Carl (The Sandman) Bilski 4274 Marks Road
Medina, OH 44256
(216) 780-1309
Call or email anytime!
Email The Sandman
*NEW* Rat Rods
*NEW* 5 Engine Tractor
Honoring All Veterans
The Motivator
Latest News
Links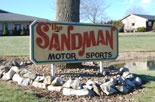 Call (216) 780-1309 to make an appointment and visit Sandman Motorsports.
As a previous drag racer and a stock car racer, the noise generated by the tractor pulls at the Ohio State Fair was music to Carl Bilski's ears. The tune he heard was so alluring, Carl decided to get back in the game by opening The Sandman Motorsports in 1983. Together with his wife Judy and their son Chris Salmonski, Public Relations Manager, Carl has built an impressive reputation in the motor sports industry. In the past twenty-two years they have drawn attention to Medina County while working tirelessly to ensure a bright, safe future for local youths.

The Sandman Motorsports competes in both unlimited modified tractor and two-wheel drive truck pulls throughout the United States. In addition to taking part in these competitions, the company also includes Sandman Classic Repair which builds street rods, restores classic cars, and also sells BIG BLOCK Chevy motors and parts. Sandman Sandblasting cleans vehicle parts for reconditioning and painting.

Premier Powder Coating of Medina provides these parts with a coating that is much more durable than paint.

Sandman Marketing specializes in marketing, meeting the motorsports world by displaying sponsors names and logos in competition events and non-competitive gatherings such as the Autorama in Cleveland and Norwalk Raceway Park. Throughout our travels, we've become an extension of our sponsors' sales forces. We carry brochures of their product or service line and pass out their business cards wherever we go.
CONTINUED...
A Multi-Faceted Venture...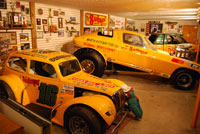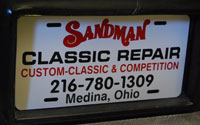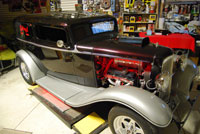 Click photos to enlarge

~Manufacturing the all new fiberglass bodied 1952 Henry J's!~