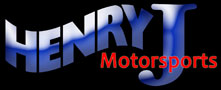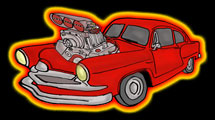 Copyright 2014 The Sandman Motorsports. All graphics, design, and illustrations within this website are produced by
Status Mark Creative
and may not be reproduced in part or in whole without the expressed written permission of Status Mark or Sandman Motorsports. All rights reserved.


Henry J Motorsports
Carl (The Sandman) Bilski 4274 Marks Road
Medina, OH 44256
(216) 780-1309
Call or email anytime!
Email The Sandman
*NEW* Rat Rods
*NEW* 5 Engine Tractor
Honoring All Veterans
The Motivator
Latest News
Links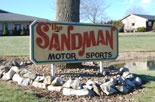 Call (216) 780-1309 to visit Sandman Motorsports.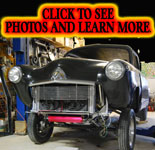 Sandman Motorsports
and ScottRods LLC have teamed up to build the first Henry J Wheel Stander to be used for exhibition at nostalgia events across the U.S. The car will consist of a custom build ScottRods Henry J body that will lift hydraulically from a custom built Sandman chassis. The power plant needed to maintain a 1/4 mile wheelie at over a 125 miles per hour will be a blown, alcohol injected big block Chevy that will be positioned in the trunk area of the Henry J. Check back often as we will follow this entire build from start to finish.
*Advance photos in slideshow window or click thumbnail.

...and a different kind of wheel stander.

~Manufacturing the all new fiberglass bodied 1952 Henry J's!~