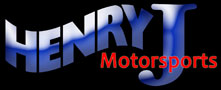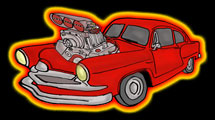 Copyright 2014 The Sandman Motorsports
All graphics, design, and illustrations within this website are produced by
Status Mark Creative
and may not be reproduced in part or in whole without the expressed written permission of Status Mark or Sandman Motorsports. All rights reserved.


Henry J Motorsports
Carl (The Sandman) Bilski 4274 Marks Road
Medina, OH 44256
(216) 780-1309
Call or email anytime!
Email The Sandman
*NEW* Rat Rods
*NEW* 5 Engine Tractor
Honoring All Veterans
The Motivator
Latest News
Links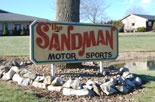 Call (216) 780-1309 to make an appointment and visit Sandman Motorsports.
1974 Chevy Half Ton Rolling Chassis w/35-350
1950 International cab, hood, running boards & fuel tank
1931 Chevy headlights
1930 Ford Front Fenders
1932 Ford Front Bumper
Shop built Bed and Boom Hoist
5 mo. Build 8-1-12 - 1-1-13
Carl, Lee, Bruce, Barry, Scott, Ken
TOWMATER - In keeping with the rise of America going 'Green;' Sandman Motorsports, 'Youth Education Through Motorsports' has added the concept of "Rat Rods" to our program.

A 'Rat Rod' is taking an old car or truck along with the odd parts from other vehicles and applying them to a reliable chassis and drive line to make it a road safe daily driver and projection of a statement that - what moves us in what we love to build! My love for old trucks and cars comes from my great -grandfather and father and in what they drove in their day. Some of the young kids (13-16) in our program seem to like the 30's to 50's era, so we found a 1950 IH (International) Dump Truck Cab, running boards w/fuel tank, hood & grill bar with the IH logo. We then added 1930 Ford front fenders, a 1932 Ford front bumper with 1931 Chevy headlights converted to 12v. All the front parts are mounted on our custom built tilt forward carriage designed by the Sandman along with the rear tow truck bed & boom.

I proudly carry my dad's (Joe) original tool box with his tools in the bed he carried since the 1950's. All parts were then mounted on a 1964 Chevy Heavy Half Ton pickup chassis with a 350 cu. in. motor and 350 trans. The doors were then lettered period correct with my grandfather's phone number SHadyside 1-0156 in his honor. Most of our youth group have never seen parts this old, but their creative input has been fun & exciting!

All design, work and welding was done in-house at Sandman Motorsports by: The Sandman (Carl) and the crew - Lee, Bruce, Barry, Scott, Kenny, and Taylor.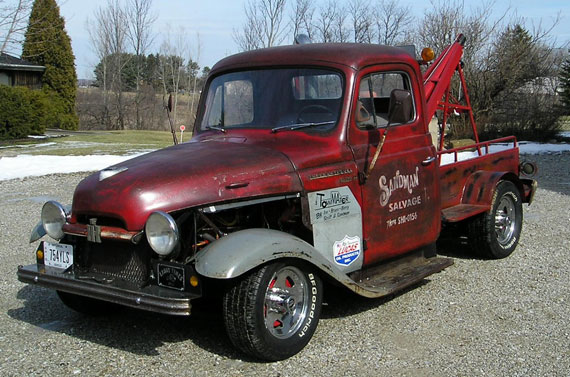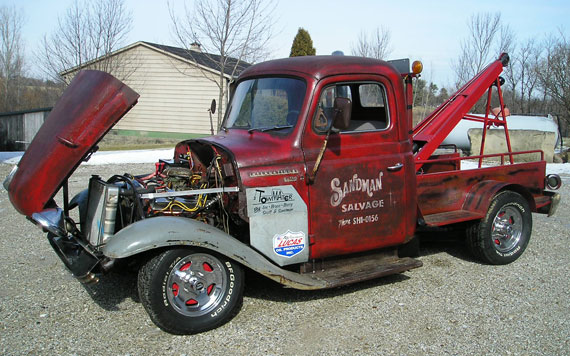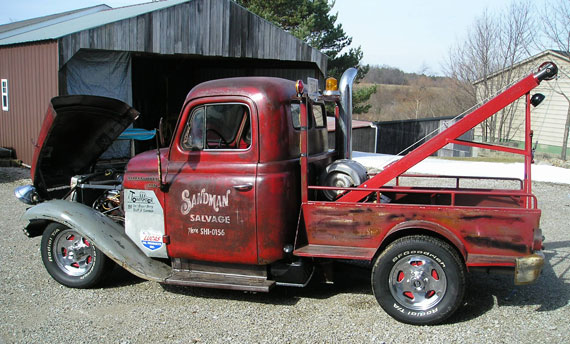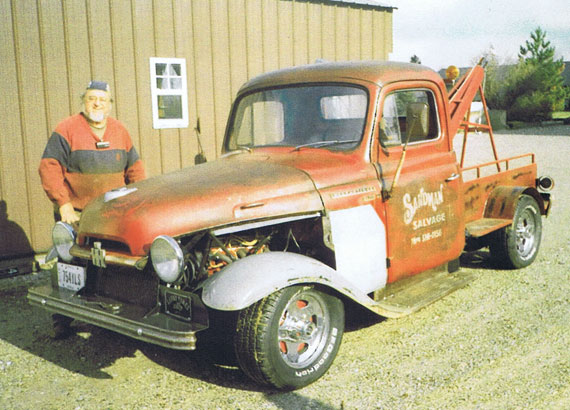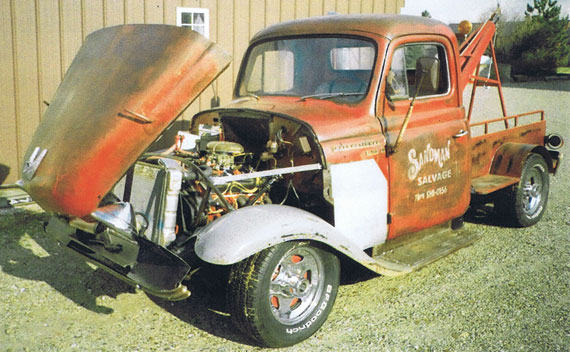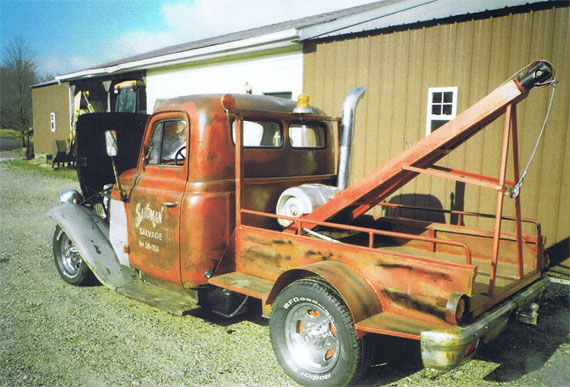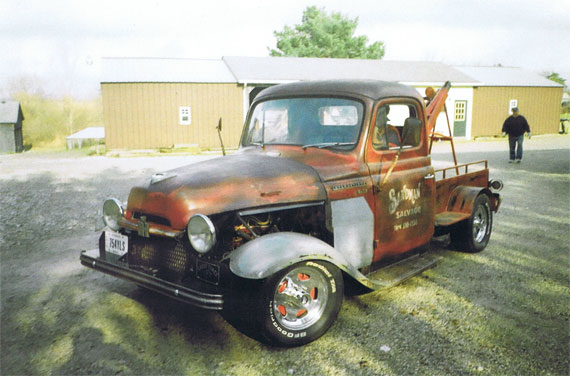 ~Manufacturing the all new fiberglass bodied 1952 Henry J's!~