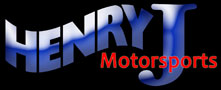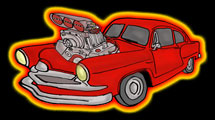 Copyright 2014 The Sandman Motorsports
All graphics, design, and illustrations within this website are produced by
Status Mark Creative
and may not be reproduced in part or in whole without the expressed written permission of Status Mark or Sandman Motorsports. All rights reserved.


Henry J Motorsports
Carl (The Sandman) Bilski 4274 Marks Road
Medina, OH 44256
(216) 780-1309
Call or email anytime!
Email The Sandman
*NEW* Rat Rods
*NEW* 5 Engine Tractor
Honoring All Veterans
The Motivator
Latest News
Links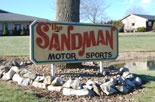 Call (216) 780-1309 to make an appointment and visit Sandman Motorsports.
The Motivator has been designed to help young people realize that they're currently in the most unique part of their entire lives. They have the opportunity to feast at the buffet of education for twelve years, and it's all free! There are only three free things in life. When you're a baby, you'll be fed and changed for free without you having to do a thing. At the other end of life, you won't have to pay for your final ride to the cemetery. The greatest free ride of all, though, is when you go to school where you can gather up all this information for free that you'll be able to use for the rest of your life. School isn't something that you should do because your parents want you to, it's actually one of the greatest opportunities you'll ever have in life, and someone else is paying for it! We hope that, armed with this information, they'll develop a different outlook on why they're spending time going to school.
CONTINUED...

Also See the New Projects
Youth Education Through Motorsports and The Motivator
Sandman Motorsports
has been in existence for twenty-three years now, and over that period, we've worked to raise the interest of young folks. Their eyes are open wide, and they're amazed to see these unique vehicles, what they do, and how they're built. I've found it disturbing that in today's world, there is no longer any youth participation in building and in craftsmanship. I'm from the old school where we used to build a lot of our own toys and craftsmanship was an important part of life. If we wanted to be consumers, we had to produce what we wanted to consume. Young people today are consumers, too, but they seldom, if ever, have the opportunity to experience where the items they use and play with come from and how they're built.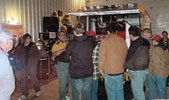 Click images to enlarge
Since we have all of this equipment at our disposal, we've found that we can bring kids in here, give them a tour, show them what we do, and how we do it. We teach them that our two-wheel drive pulling truck, "The Motivator", represents their position in the world of youth education, and help them understand that school is far more than just a place you've got to go and spend some time. We encourage them to look at school as a buffet of knowledge that they'll be able to use the rest of their lives. At Sandman Motorsports we engineer and build parts in-house, and even though I'm not formally educated in these fields, intense desire and drive have provided the opportunity to make these things happen.



~Manufacturing the all new fiberglass bodied 1952 Henry J's!~