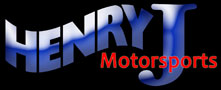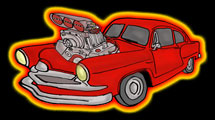 Copyright 2014 The Sandman Motorsports
All graphics, design, and illustrations within this website are produced by
Status Mark Creative
and may not be reproduced in part or in whole without the expressed written permission of Status Mark or Sandman Motorsports. All rights reserved.


Henry J Motorsports
Carl (The Sandman) Bilski 4274 Marks Road
Medina, OH 44256
(216) 780-1309
Call or email anytime!
Email The Sandman
*NEW* Rat Rods
*NEW* 5 Engine Tractor
Honoring All Veterans
The Motivator
Latest News
Links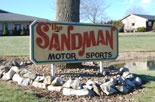 Call (216) 780-1309 to make an appointment and visit Sandman Motorsports.
Just Tell Them "Thanks!"


After I got home from the service in 1965, I was appalled by how non-Veterans in the United States viewed the men and women who had given not only their time, but often their lives while serving their country. I attributed this to a lack of understanding of our country's history and in the late 1990s, I started "Honoring All Veterans of All Wars" to teach our young people about the incredible sacrifices that have been made on their behalf. By understanding our history and the dedication of our country's veterans, I feel that today's youth will gain an appreciation and respect for not only those who have given so much in the building of our nation, but also for all the people, animals, and land that make up this great country.

Judy and I have dedicated this corner to All Veterans of All Wars and use it to explain to the young people that war doesn't actually have anything to do with the smart bombs and tracer bullets they see on television. It's about their grandfathers and grandmothers, parents, aunts and uncles, cousins, friends, and neighbors who have given their lives and limbs to protect and defend the freedom we enjoy today. We play a tape for them and explain the symbolism of "The Missing Man Table";

Missing Man Table

-The table is round to show our everlasting concern for our missing men and women and its smallness symbolizes the frailty of one prisoner alone against his oppressors.

-The tablecloth is white to symbolize the purity of their motives when answering their call to duty.

-The single rose displayed in a vase reminds us of the families and friends who keep faith while awaiting the return of our missing brothers.
CONTINUED...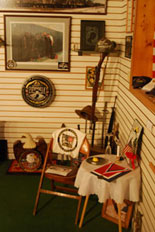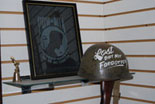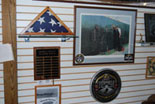 Click photos to enlarge

~Manufacturing the all new fiberglass bodied 1952 Henry J's!~